Thirty three years since the beginning of Shri Krupa, fifteen hundred students later, one hundred and ten Arangetrams accomplished – the community of Shri Krupa – students, parents, ensemble, city and arts organisations, friends all gathered to remember and show deep gratitude to the vision of the Creator, Artistic Director of Shri Krupa Dance Foundation/Company – Guru Shrimati Vishal Ramani. A strong fifty student contingent who had graduated from 1979 thru 2009 assembled to give and perform the second offering "Samarpanam II – The Next Generation" to the artform and their Guru. This befitting glory was the students creation, their own efforts of putting the entire program together. Not an easy task by any means, as it required utmost sense to detail and above all – a complete surprise to the Guru! Eleven years ago, with SamarpanamI, the concept was formed, framed and set as if in an everlasting sculpture. Such homage to a Guru, in a land wherein Bharatanatyam is still a "magical artform of the East", children of Indian descent learning the legacy of the past, putting it in the context of the present with a hope of a continuum to the future is a marvel to be cherished, applauded and accepted. Samarpanam I and II were gifts from the students of Shri Krupa to their Guru for her dedication to Bharathanatyam. Guru Vishal Ramani was overwhelmed by the love, affection and dedication of her students. Temples in India celebrate their Maha Kumbhabishekam every 12 years, in the same way Samarpanam has become a Shri Krupa tradition and hopefully we will have the opportunity to witness another offering in 12 years.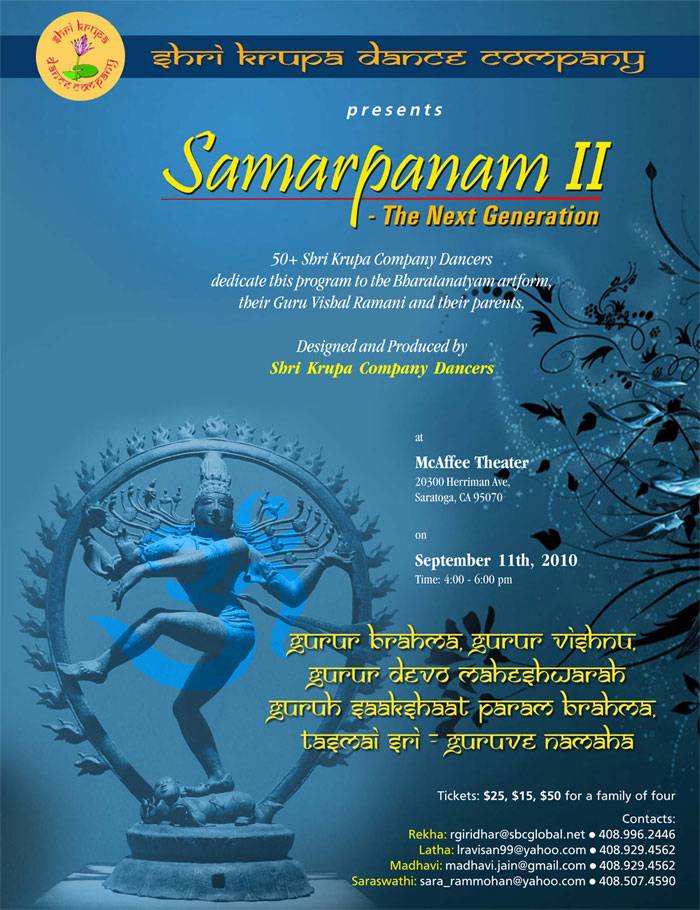 Vishal Ramani, the Guru, summed up her experience thus:
Adi Guru's Grace – By Guru Vishal Ramani
There was this soothing silence around me as I watched the grace of nature, rhythmic and orderly. Animals exhibit territorial possession or strength and supremacy by leaping, stretching or bowing in a courtly manner, while birds strut their feathers, hop or fly in unison, showing perfect symmetry. Who has taught them to sit in conference high on a pole, or soar with their wings spread, in impeccable formations? Nature is the true GURU above all its representatives upon this earth.
A teacher they say is one who removes the darkness of ignorance by illuminating the taught, instructing and guiding to make him/her a true follower and practitioner. A true Shishya has the intent to learn, and is a seeker of knowledge. Perfect Shraddha and Bhakti are required in order to become an intense practitioner.
To step into the status of a teacher of this dance form, it takes some dedication and daring. In a land that was yet to know this dance form of South India, and had not really witnessed a full scale Bharatanatyam dance recital, it was quite a daunting responsibility. This is way back in the seventies when I embarked on imparting this knowledge, to those that were few and far between. Knowing the history and potentialities was just not enough. Again and again I felt a replay of the thought that this dance belongs to the realm of great masters and has boasted several centuries of sanctity, solidarity and strict confines. To have a vision was not enough. It was imperative to have the qualities of extreme patience, forbearance, humor and seriousness all at once and above all the grandeur of true humility to be able to envelope the students in a structured and strict environment into the folds of knowledge. I did not realize then that this field would suck the teacher in me, like quick sand.
The dance form uses a clear definition of form and technique that is learnt over a period of several years, and the choreography has its distinction in dramatic content and technique. The vocabulary is the same as laid out in the Natya Shastra, Abhinaya Darpana and other texts. Yet it finds new realms with ever-expanding imagery of new dancers and innovators. The dance numbers are varied to suit the needs of a dancer, with vivid expressions and both dexterity and rigidity of body form. Posture and centering become the natural ability of a trained dancer. Streams of philosophical thoughts and sentiments are expressed without abashment by a trained dancer who is able to stir the same feelings in her audience members.
At this point I must state that traditional and novel themes can be presented. However one must keep to the strict confines of the art form as is laid out in the texts. It is important to know that this form is not merely limited to mental and physical work, but delves deep within the soul of the dancer. It comes to fruition as a brilliant masterpiece that explicitly states, without any diffidence, the purpose of the poet/writer. Experience is a necessary tool to catch the vibrations of moods and pulse beats of the students. Each one has a set of variables in form, shape, grasping power and so on. Sacrifice and Patience are the two key words to tackle the young ones and entwine the teaching with the understanding of each of the subjects.
My path is laid out. I live life dancing. I love to emulate the true sense of the word 'guru' for it gives me a one-pointed purpose in life. I am the loving 'amma' to many, but now I am a 'grand amma' to my own grandchild and hope will continue to light up several of my grand students into this way of life.
According to Hindus, one of the greatest worship is the worship of our PITHRUS or forefathers. May Dakshinamoorthy, the Adi Guru shed His grace upon all of us, to understand and abide by the true meaning this word 'GURU.' My gurus have ignited this true love for dance in me and I hope that for generations we will keep offering SAMARPANAMS to the true 'GURU' that resides in each of us.
The Orchestra
Nattuvangam:
Vasudevan Kesavalu
Vocal:
Sweta Prasad
Mridangam:
M. Dhanamjayan
Violin:
N. Veeramani
Samarpanam II
Program: Pushpanjali
Raagam: Ragamalika
Taalam: Adi
Dancers: Company Dancers
Program: Pranava Swaroopam
Raagam: Aarabhi
Taalam: Adi
Dancers: Laxmi Balasubramanian, Tejasvi Bhyravabhotla, Gauri Patil
Program: Asainadadhum Mayil
Raagam: Simhendra Madhyamam
Taalam: Adi
Dancers: Shreya Condamoor, Anusha Srinivasan, Chethana Damodara, Raina Poria, Gayathri Srinivasan.
Program: Varnam
Raaga: Valachi
Taalam: Adi
Dancers: Diksha Venkatesh, Meghna Chakraborty, Nupur Behl, Ramya Ramesh, Sharanya Balaji, Soumita Bose, Sweta Sridhar,Varunika Raja.
Program: Parvathi Nayakane
Raagam: Shanmugapriya
Taalam: Adi
Dancers: Anjali Kumar, Dhruvangi Shah, Krithika Rao, Lakshyaa Balakrishnan, Lekha Chirala, Maya Guhan, Medha Acharya, Poorvi Satya, Preethi Balagani, Sandini Shah, Shruti Indiresan
Program: Shiva Shakti
Raagam: Shiva Shakti
Taalam: Adi
Dancer: Nitya Venkateswaran
Program: Pralaya Payodhi – Dasavataram
Raagam: Ragamalika
Taalam: Adi
Dancers: Ramya Kuchibhatla, Anjali Kuchibhatla, Maya Ramachandran, Sruthi Damodar, Anchal Singhal, Sheetal Singhal
Program: Kaalinga Narthanam
Raagam: Punnagavarali
Taalam: Adi
Dancers: Anjana Bala, Vino Lakshmaman, Nadya Agrawal, Anu Ramachandran, Priya Banerjee, Geetha Bharathi, Pooja Chirala
Program: Thillana
Raagam: Thilang
Taalam: Adi
Dancers: Neha Marathe, Nitya Venkateswaran, Sita Chokkalingam, Swapna Venkateswaran
Program: Mangalam (Benediction)
Dancers: Company Dancers
ACKNOWLEDGEMENTS
The Board of Directors of Shri Krupa Dance Foundation would like to thank and acknowledge the efforts of all those who helped to make this program a success.
Choreography:
Vishal Ramani
Program Steering
Committee:
Dilip Kuchibhatla, Shyamala Venkateswaran, Murali Chirala, Raja Renganathan and Neeraja Balaji
Artistic Coordination:
Sheetal Singhal, Ramya Kuchibhatla, Anjali Kuchibhatla and
Nitya Venkateswaran
Fundraising:
Ram Gopalan, Nagarajan Ramesh and Sridhar Lakshmikanthan
Ticket sales:
Sasirekha Alur, Latha Ravishankar and Shri Krupa Class Parents
Brochure:
K. Venkateswaran, Bharti Agarwal, Sumati Natarajan and Shanta Condamoor
Publicity and Student Liaison:
Jayasri Raja, Madhavi Jain and Sireesha Sunkara
Production Support:
Aruna Acharya, Anu Balakrishnan, Asha Venkatesh, Rajeswari Rao, Rohini Inderesan, Vandana Behl, Deepa Shastri, Ragamayi Bhayravabhotla, Shobha Ramesh, Shubha Guhan, Anu Chirala, Tharini Chakraborty, Renu Suresh, Sunitha Balagani, Venkata Balagani, Pushkala Raju, Usha Srinivasan, Muthuswamy, Manjula Hullati, Sutapa and Prashanta Bose, Annette Narayanan, Sheeli & Bhargava and Shri Krupa Parent Volunteers and Board Committee Members
Emcee:
Aparna Sundaram
Lighting & Sound:
Balaji Pagadala, Balakrishnan and Trinayan Bora
Video:
Dean Productions – Dheenu Neelamegam
Photography:
Photography: Seetharaman Narayanan