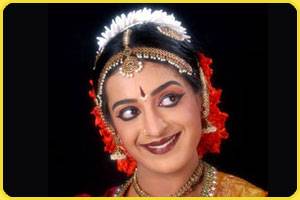 Nitya Venkateswaran, born and raised in California, U.S.A, has been immersed in the classical dance form of Bharatanatyam for the past 30 years. She has trained with Vishal Ramani, Artistic Director of Shri Krupa Dance Company, San Jose, CA, since 1980 and performed her arangetram, or solo dance debut in 1985.
Nitya is known for her dynamic stage presence, exacting footwork and soulful rendering the musical content of Bharatanatyam. She is one of the very few second generation Indian Americans to continue pursuing Bharatanatyam professionally and has performed extensively as a soloist for the past 11 years, presenting pieces choreographed by her Guru and herself. She has performed numerous times in India and the San Francisco Bay Area with rave reviews. Nitya has given over ten solo performances during Chennai's Music and Dance season, and also performed in Bangalore's Gayana Samaj and the Indira Gandhi Center for Arts in New Dehli. Nitya was honored to perform during the Maha Shivarathri celebrations in the Brihadeeshwar Temple, a UNESCO World Heritage site, in Thanjavur, Tamil Nadu in 2005. Reviewed by critics in the Hindu newspaper as well as Tamil Newspapers, Dinamalar and Dinathanthi, critics noted her charming stage presence and depth of understanding in emoting the musical content of Bharatanatyam.
Nitya's performances in the US have received wide acclaim. She was selected to be a soloist in the prestigious 27th Annual San Francisco Ethnic Dance Festival in June of 2005 where she was awarded a choreography commission by the San Francisco Foundation. She presented her own choreography in a traditional Bharatanatyam margam titled "Legacy of Love", a culmination of her choreography apprenticeship under her Guru, Mrs. Vishal Ramani, supported by the Alliance of California Traditional Arts' Apprenticeship Program in partnership with the James Irvine Foundation and the San Francisco Foundation. In 2005 her solo sold-out performance at the ODC theater in January 2005 was reviewed by Bay Area Dance critic Mary Ellen Hunt, expressing the vitality and modernity inherent in classical dance styles. Nitya was also a former Artist in Residence at the Oakland Asian Cultural Center and her work was presented at the APA Heritage Festival in May 2007. Nitya continues to perform regularly in local festivals and events, bringing to life the mythological stories and humanistic themes as part of the Bharatanatyam repertoire. Nitya displayed a love for dance and an innate understanding of complex rhythmic patterns at an early age. She quickly picked up the intricacies of Bharatanatyam and performed her dance debut (arangetram) with her sister, Swapna, after only 5 years of training. Under the continued tutelage of Ramani, Nitya has performed in the San Francisco Bay Area as a soloist and with the Shri Krupa Dance Company. Her solo performance career began in Chennai, India in December 2001 during the "Season" a 2 month long festival in Chennai where about over 300 music and dance concerts are held. Since 2001, she returned to India three times, performing regularly in prestigious festivals and venues in India including Kartik Fine Arts, Mylapore Fine Arts, Hamsadhwani, and Parathasarthy Swamy Sabha. While in India, Nitya furthered her understanding of Bharatanatyam by studying Sanskrit, Tamil, nattuvangam and Carnatic music. Her knowledge of carnatic music include vocal and the veena, a South Indian stringed instrument. A lover of all dance forms, Nitya has also studied Modern/Graham technique at UC Berkeley and the Alvin Ailey American Dance Center and Flamenco in the Bay Area and Sevilla, Spain. Nitya's true passion, however, lies with Bharatanatyam where she is able to experience joy and deepen her spirituality. She is forever indebted to her Guru for her constant guidance, enthusiasm and inspiration. Currently a PhD at the University of Washington, Seattle in Education Policy, Nitya continues to perform in Seattle and the San Francisco Bay Area.
For more information, please visit – nityav.com
Recent Festival and Community Performances :
Ragamala's UTSAV Festival, Seattle, WA, October 10, 2010
Northwest Folklife Festival, Seattle, WA, May 31, 2010
ISIS Woman Arts Festival, Seattle, WA, May 1, 2010
Seattle World Rhythm Festival, Seattle, WA, April 23, 2010
Seattle Tamil Sangam, Seattle, WA, Nov 21, 2009
UW CultureFest, Seattle, WA, November 20, 2009
Northwest Folklife Festival, Seattle, WA, May 23, 2009
Seattle World Rhythm Festival, Seattle, WA, April 24, 2009
APA Heritage Street Fair, San Francisco, May 2008
Arudra Natyanjali Festival, Livermore, January 2008
APA Heritage Festival, Oakland, May 2007
Sunday Salon by Counter PULSE and Dancer's Group, San Francisco, March 2007
Ron Dellums Inaugural Celebration, Oakland, January 2007
Kearny Street Workshop's Apature, San Francisco, September 2006
Engineers Without Borders Fundraiser, San Francisco, September 2006
Ashkenaz, Berkeley, July 2005
Summer Celebration, International Diplomacy Council, Atherton, July 2005
Sequoias Senior Center, San Francisco, July 2005
San Francisco Ethnic Dance Festival, June 11 and 12, 2005, Palace of Fine Arts, USA
Translations, Asian American Dance Performances, San Francisco, June 2005
SAMEAPI Awareness Now!, Mills College, April 2005
APA Heritage Festival, Oakland Asian Cultural Center, April 2005
San Francisco Day School Fundraiser, San Francisco, April 2005
Tsunami Relief Benefit, San Mateo, February 2005
Performances by Asian American Women, Varnish Fine Art Gallery, San Francisco, November 2004
Solo Performances, USA
Summer Performance Festival, August 7 and 8, 2008, San Francisco CA
Legacy of Love- Solo Performance, June 3, 2007, Historic Hoover Theater, San Jose
Benefit for Amnesty International, June 11,2006, San Diego Repertory Theater, San Diego
Solo Dance Performance-South India Fine Arts Spring Festival, April 2, 2006, CET Theater, San Jose
Solo Dance Performance-Tsunami Relief Benefit, January 30, 2005, ODC Theater, San Francisco
TEJAS, The Divine Radiance, August 29, 2004, Mayer Theater, Santa Clara
Shri Krupa's 25th Anniversary Celebrations Solo Performance, August 10, 2002, Cubberley Theater, Palo Alto
Mother Ganga, the River Immortal, February 4, 1994, Cubberley Theater, Palo Alto
Arangetram (Dance Debut), September 1985, Montgomery Theater, San Jose, CA
Solo Performances, India
Indira Gandhi National Centre for the Arts,"Kaatrinele Varum Geetham" A Tribute to MS Subbulakshmi, March 4, 2006, Delhi
Brahan Natyanjali Festival, February 27, 2006, Thanjavur
Natyanjali Festival , February 26, 2006, Kumbakonam
Natyanjali Festival, February 21, 2006, Chennai
Shri Parthasarthy Swamy Sabha Dance Festival, February 6, 2006 Chennai
Bangalore Gayana Samaja, "Kaatrinele Varum Geetham" A Tribute to MS Subbulakshmi, January 18, 2006 Bangalore
Kartik Fine Arts Dance Festival, January 9, 2006, Chennai
Hamsadhwani NRI Festival, December 18, 2005, Chennai
Mylapore Fine Arts , "Kaatrinele Varum Geetham" A Tribute to MS Subbulakshmi December 12, 2005, Chennai
Naada Inbam, December 7, 2005, Chennai
Parthasarthy Swamy Dance Festival, January 16, 2003, Chennai
Nrithyashektra Silver Jubilee Celebration, January 5, 2003, Chennai
Nrithyashektra Silver Jubilee Celebration, January 3, 2003, Chennai
Hamsadhwani NRI Festival, December 23, 2002, Chennai
Nugumbakkam Cultural Academy Dance Festival, January 9, 2002, Chennai
Sri Thyga Brahma Gana Sabha Dance Festival, January 4, 2002, Chennai
Mylapore Fine Arts Dance Festival, January 2, 2002, Chennai
Kapali Fine Arts Dance Festival, December 6, 2001, Chennai
Shri Krupa Company Performances
Samarpanam II: The Next Generation, September 2010, San Jose
Kala Chakra, October 2004, San Jose
Navarasa Shiva Shakti, February 2001, Palo Alto
SUN, The Living Truth, August 2000, San Jose
Reflections: Dawn of the Millennium, January 2000, San Jose
Ganesha, September 1999, San Jose
Samarpanam, an Offering, January 1999, San Jose
Mother Ganga, the River Immortal, January 1998, Palo Alto
The Infinite and the Immortal, September 1996, San Jose
Peace Eternal: Om Shanti, August 1995, San Jose
The Legend of Life and Love, July 1993, San Jose
Mukundam Maanasam, January 1993, San Jose
Poetic Visions of Glory, April 1992, Palo Alto
Testimonial
If you have the chance to see Nitya Venkateswaran perform, please RUN — do not walk – to do so. With beauty, grace and even some occasional high-spirited humor, Nitya dramatizes mythological stories of India through traditional Bharatanatyam dance, an engaging combination of footwork, hand gestures and facial expressions. Her wonderfully educational introductions to each dance, gives unfamiliar audiences the opportunity to fully enjoy the stories being told. Imagine my surprise when I suddenly realized that Nitya was not verbally telling me a story. Rather, by her introduction to the context of the story and the meaning of the movements, I could "hear" her tell me the story as she took me on a cultural journey though dance. – Cynthia del Rosario, Director of Office of Minority Recruitment and Retention, University of Washington, COE
The Hindu
The Hindu, Chennai, INDIA, March 3, 2006 "It is obvious that Nitya Venkateswaran loves to dance. An Indian American from California, she exhibits confidence that lends a sheen to every movement and expression."
"At a macro level, Nitya makes a striking picture of grace, dignity, good posture and good footwork…" "That Nitya stands out in a crowd is proof enough of her aptitude."
Voice of Dance, San Francisco, USA, June 2005 "To open Saturday, Nitya Venkateswaran, a specialist in the South Indian classical dance form, Bharatanatyam, offered Shiva Shakti, a purification solo dedicated to Shiva's consort. The erect postures, carefully placed fingers and meticulously bent legs bespoke mastery of craft…"
In Dance, San Francisco, USA, March 2005 "Nitya displayed the traditionally prized qualities of a Bharatanatyam dancer, not the least of which was her witty self-possession on stage."
"Nitya's clean, crisp footwork easily accentuated the rhythms of the recorded ragas, particularly in the taxing varnam, a test of stamina for the dancer that can wear on the audience as well. However, her verbal introduction of the mimed dance movements – which took on the feeling almost of ASL simultaneous interpretation of the story – as well as Nitya's highly communicative facial expressions kept the thread and mood of the stories coherent."
The Hindu
The Hindu, Chennai, India, January 10, 2003 "Nitya Venkateswaran from California possesses an appealing blend of confidence and enthusiasm… Her short yet vibrant recital illustrated a keen involvement that was apparent in her good footwork, and keen rhythmic sense… Her perceptive portrayal in "Varugalamo" demonstrated a good sensitivity towards the protagonist and his pitiable condition"
Dinamalar
Dinamalar (translated), Chennai, INDIA January 2002 "Nitya's portrayal of Bhartiar's song Shiva Shakti was excellent. Her abhinaya showed that she understood the inner meaning and brought it out with feeling. Her ending poses are still in front of my eyes."
Dinathanthi|
Dinathanthi (translated), Chennai, INDIA, January 2002 "Only when she talks you know that Nitya is foreign – her Dance is pure unadulterated Bharatanatyam."