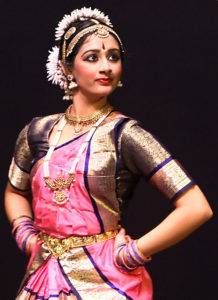 Anu Ramachandran started learning Bharatanatyam at the age of 6 from Guru Vishal . Anu completed her arangetram – solo debut – under the expert guidance of Vishal in 2006. The event was a great success and Anu performed the solo Varnam in Khanda Jathi Ata Thalam, a rare piece for an arangetram.
She continued learning from Vishal and participated in several school programs as well as San Francisco Ethnic Dance Festival auditions. In 2008, Anu was a key member of the Shri Krupa troupe that won the World Dance Competition in Barcelona, Spain. She also performed a solo concert "Connections" in Sept 2008 under Vishal's coaching. In this program Anu showcased pieces based on the theme of cultural, spiritual, societal connections we all share. This program helped raise awareness and funds for the Global Fund for Children. In 2009 summer Anu partnered with her friends Ramya and Anjali Kuchibhatla to present "Yagna Yatra" a unique dance drama concepted and choreographed by Vishal. In Dec 2009, she performed "Triveni" with Ramya and Anjali in Adelaide, Australia to standing ovation. In 2010 she payed homage to Vishal as part of the troupe in the production "Samarpanam 2".
Anu considered dance an integral part of her . She is thankful for the discipline this art form has taught her, the opportunities it has given her to explore a wide range of themes and emotions as well as the great friends she has made. She hopes to continue her bond with her dear guru and this dance form.
Solo Performances
"Triveni",6:00pm, December 26, 2009, Burnside Community Center, Sruthi Adelaida, Adelaide, Australia.
"Yagna-Yatra (for life is… but a journey & sacrifice)", August 8, 2009, Mission City Center for Performing Arts, Santa Clara
"Ramayana ("the legend of life and love")", Presented by Shri Krupa dancers on September 21, 2008 at McAfee Performing Arts Center, Saratoga.
"Connections", San Jose University Theater, September 2008, San Jose, California
Shri Krupa Company Performances
"SamarpanamII – The Next Generation", September 11, 2010, McAfee Theater, Saratoga – A special dedication to the Art of Bharatanatyam and Guru Vishal Ramani
"Ramayana ("the legend of life and love")", Presented by Shri Krupa dancers on September 21, 2008 at McAfee Performing Arts Center, Saratoga.
"Kala Chakra", 6:00pm, October 2nd, 2004, CET Theater, San Jose
"Omkar", Sep 28th, 2003, Santa Clara Convention Center, Santa Clara
"Ramayana", 6:00 pm; July 27th, 2002, San Jose Repertory Theater, San Jose
Accolades
Adelaide has not seen a stunning performance as this over the last 20 years," Triveni audience member, in Adelaide, Australia
"The Trio, Anu, Ramya and Anjali were in perfect Synchrony", Vinaya, Bharatanatyam Teacher, Adelaide, Australia