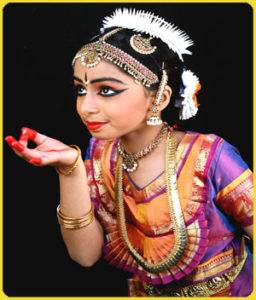 Sharanya Balaji, a rising senior,at The Harker School, has been learning Bharatanatyam under the tutelage of Smt.Guru Vishal Ramani, since she was 4 years old. Her Arangetram at the age of 9, was held on August 23rd, 2008 at the McAfee Center, Saratoga. She is a budding dancer and a soloist, performing extensively and continuing her learning with passion and enthusiasm.
Sharanya's performances have won a lot of appreciation and laurels from many in the fields of dance, especially with her footwork, Laya and Bhava. She has been performing at the prestigious Chennai Music and Dance Festival during the December season for the past three years. Sharanya was awarded the "Yuvashri Kala Bharathi" award in the field of Bharatnatyam in December 2008. She has also been the medal winner at VDS Arts Academy for her performance in 2009. She was also selected to perform in the Emerging Artists Series in San Diego, from the Indian Fine Arts Association San Diego (IFAASD) in August 2009.
Sharanya has won dance competition prizes at the Sivan Fine Arts Festival, San Jose(2009). She has been a consistent Top 5 Finalist at the Cleveland Thyagaraja Festival in 2012, 2013 and 2014, that has selected her to perform in professional productions at the Cleveland Festival in 2012, 2013 and 2014 with senior dance artists from Chennai, India. She has also received the master apprenticeship grant from ACTA (Alliance for California Traditional Arts) for the year 2015 that is given to around 15 master-apprentice pairs in all of California.
In addition to these solo performances, Sharanya is also part of the Shri Krupa Company of Dancers and regularly performs with the group at local community events.
Solo and Group Performances in USA
Top 5 Finalist at The Cleveland Thyagaraja festival in 2012, 2013
Selected to perform in the professional multi-episode productions of the classic Epic "Mahabharatham" in 2014 with senior dance artists and master choreographers at the Cleveland Aradhana Festival in 2014
Selected to perform in the professional production of "Shiva Skandam" along with her dance school, Shri Krupa Dance Company in the main role of goddess Parvathi. This production team traveled and featured at the Cuttack International festival in Jan 2014
Selected to be one of the lead choreographers in the premier series called "Cleveland Aradhana Premier Dance League" at the festival in 2015 that was the first time an all youth ensemble had to be put together and the team to present a fully self choreographed traditional repertoire
Solo fund raiser concerts for Starting Arts towards Grant Elementary School in 2013, 2014 and now in 2015.
Established the "Natanam" performing arts series – an annual and possibly semi-annual series to bring emerging youth artists from across USA for an "arts for arts" cause.
Solo Concert as a Fundraiser for Concord Shiva Murugan Temple, Cubberley Theatre, Palo Alto, CA , Aug 22nd 2010
Finalist and 3rd Place winner in the Cleveland Thyagaraja Aradhana Solo Bharatanatyam competition, May 2st 2011
Part of the Cleveland Thyagaraja Festival Productions – "Valli Bharatham"and "Premayil Shakuntalai"
Solo Audition in the Ethic Dance Festival, Jan 30th, 2010
Solo Concert, Emerging Artist Series, Indian Fine Arts Association, San Diego, CA , August 14th 2009
Part of Shri Krupa Productions in the bay area
Solo Performances in Chennai, India during the Chennai Marghazhi Season
Consistently performing at the following venues during the prestigious season from 2008 to 2012
TVG AIMA Sabha, Varasidhi Vinayakar Temple, Besant Nagar, Chennai
VDS Arts Academy , MOP Vaishnav College, Chennai
Hamsadhwani Sabha, Adyar, Chennai
Vipanchee Sabha, RK Swamy Hall, Mylapore, Chennai
Mudhra Fine Arts, Infosys Hall, T Nagar, Chennai
Kapali Fine Arts, Bharatiya Vidya Bhavan, Mylapore, Chennai
TVG AIMA Sabha, Varasidhi Vinayakar Temple, Besant Nagar, Chennai
Ganamukundapriya Sabha, Dakshinamurthy Auditorium, Chennai
Cleveland Thyagaraja Festival, ISKON Temple, Tiruvanmiyur, Chennai
Accolades
"She has been called a child prodigy by many in the field of dance", Young World, January2009, Hindu