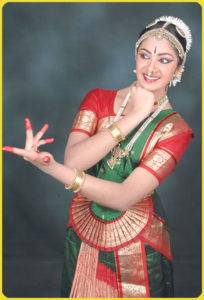 Krithika has been learning Bharatanatyam for 8 years. She joined Shri Krupa Dance Company in Jan of 2003 at the age of 6, and began learning from her Guru Smt. Vishal Ramani. Since then, she has pursued this classical dance form passionately, and completed her Arangetram in July of 2010. Krithika is currently 14 years old, studying at Kennedy Middle School, Cupertino. Krithika has performed in numerous Shri Krupa productions, fundraisers, and dance ballets in and around Bay area.
She has performed in almost 8-10 fundraiser events for Shiva Murugan Temple at Concord, CA from 2003 to 2010. She has also been involved in two of Shri Krupa's ballets: the Ramayana and the Sapta Tandavam.
In Dec of 2010, she performed in the Saraswathi Memorial Fundraiser for homeless shelters in San Jose. Krithika has performed in various folk and classical group dances for the cultural programs of Kannada Koota of Northern California (KKNC) since 2004. In addition, Krithika has performed in the Diwali Fair, organized by Cupertino City, in 2008 and 2010. Krithika participated in a classical group competition organized by Bay Area Telugu Association (BATA) in March, 2011 and won 2nd place.
She also won a prize in KKNC Got Talent, a solo dance competition, in April 2011. Krithika is also learning Hindustani classical vocal music from Shri Nachiketa Sharma for last 6 years, and has participated in multiple student concerts and competitions. She has been learning to play the flute for 4 years, and enjoys playing in her school band. Krithika has been playing basketball for last 6 years as part of her city league and NJB, and she is also a proud member of the Kennedy school team for the past two years.