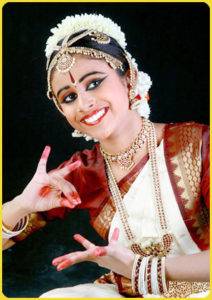 I am 13 years old and a high school student at Harker. I started learning Bharatnatyam from Guru Vishal Ramani since I was six. I performed my Arangetram on July 17th, 2010 and am the 114th graduate of Shri Krupa. In addition to dance, I play the violin and viola and pursue music performing the Viola in the school Orchestra as well as at the San Jose Youth Symphony Philharmonic Orchestra
Dance is a passion for me and I enjoy participating in several Shri Krupa dance ballets. Many of these were for SKDF and the Concord Temple fundraising programs. I am most proud of participating with many Shri Krupa senior Arangetram graduates and dedicating short dance ballets to our beloved Guru Vishal Ramani. This program titled Samarpanam-II was a once-in-a-decade offering of gratitude from students to their Guru. This august (2011), I will be performing for the first time in India at my Grandparent's 50th wedding anniversary. I plan to continue to pursue my passion for Bharatanatyam for many more years.
Besides Bharatanatyam and Viola, I love animals and travel and seek out a little bit of adventure in every aspect of life.