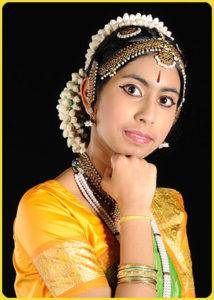 Preethi Balagani has been learning Bharatanatyam from Guru Vishal Ramani since she was 6. She has performed in many temples, community events, and fundraisers for Shri Krupa Dance Company.
She recently performed a 'Pushpanjali' for Mount Madonna School's 32nd production of the Ramayana.
Preethi is also an accomplished pianist and volleyball player.
Her hobbies include photography, painting, traveling and is an avid reader of detective novels. She is entering her freshman year at Mount Madonna School, and has won many academic achievements.